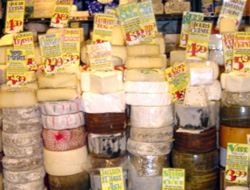 The weather can't seem to decide what it wants to do, in turn making it hard to decide what to eat: something comforting and cheesy or something fresher and green? I decided the only solution was to combine the two.

One of the great American dishes has got to be macaroni and cheese. Gooey, cheesy and rich with a slight crunch on the top it is pure goodness in a casserole dish. The one problem I have with macaroni and cheese is the guilt. It's soooo rich, it's not the healthiest dish in the world.

One way to make a dish healthier is to cut back on the rich ingredients, like the milk, butter and cheese. Well, that's no fun! I'd rather add in some heathy but tasty stuff as a compromise that really doesn't feel like a compromise at all. My healthy additions are some peas and artichoke hearts, both tasty Spring arrivals. They both go particularly well with gruyere cheese. And gruyere is a perfect cheese for macaroni and cheese.