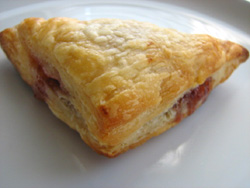 I'm a cheater, in the kitchen anyway. While I may not be a fan of mac and cheese from a box, I positively love using gourmet specialty products. What kinds of products? Jams, mustards, chutney, tapenade, Chinese sauces, so many things! Two of my favorite secret weapons are in the freezer--phyllo dough and puff pastry.

You could easily write a book on all the things you can make out of phyllo dough and puff pastry. I suggest the title "How to Succeed in Baking Without Really Trying". Once you learn how to handle them, the possibilities are endless. They even turn something mundane into something special. For example you could make a stew into an elegant pot pie. You could turn a fruit compote into pastries. You could make fancy little appetizers to serve hot from the oven. How fancy? I suggest little napoleons or tartlets. It's really easy.
A few weeks ago I had a lot of goat cheese languishing in the fridge. I had promised my friend Alison I would develop some recipes for her fabulous chutney and it dawned on me that using puff pastry I could make a delicious pastry with nothing more than goat cheese, puff pastry and chutney.