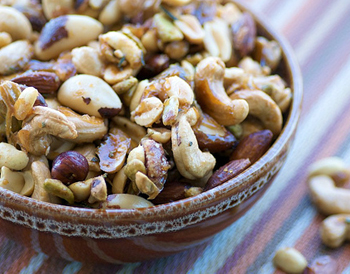 Ever since Jeff and I moved to Southern California seven years ago, my parents have flown from Rhode Island to celebrate Thanksgiving with us.

Each year about a week before they leave, Mom calls and asks,"Do you want us to bring anything? Bread from Buono's? What about some soppressata from Venda's?" After taking down our requests, she invariably asks me one question: "Is Jeff going to make those rosemary nuts this year?"

I make the turkey, the stuffing, the cranberry relish, the vegetables and all the desserts. But what do my parents want to know? If Jeff is making the rosemary nuts.

These Sweet and Spicy Rosemary Nuts have become such an integral part of our celebration that none of us can imagine Thanksgiving Day without them. Jeff makes them early in the morning, enticing us with the aromas of earthy rosemary and sweet honey. We traditionally serve them with drinks before dinner. When there's about half a bowl left, we take turns, saying, "Put them away. I've had enough."