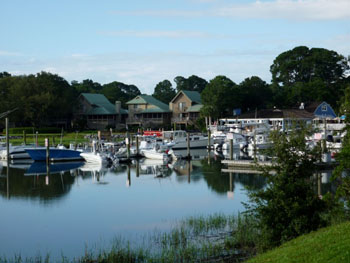 The Salty Dog Cafe in Hilton Head, SC is not your typical place to take Mom for Mother's Day. However, I think all Mothers should eat exactly what they want on their big day and nothing foots the bill for my Mom more than The Salty Dog.
It's located at South Beach Marina on the island of Hilton Head in South Carolina and conveniently located next door to our beach house. It's a working marina, with lots of fishing boats, and everything else from an old fashioned ice cream shop to a bait and tackle shop. There's several restaurants, outdoor bars, musicians at night. But the big attraction is The Salty Dog Cafe.
Growing up, we rented a house there in the summer and I remember the 2 hour waits we would endure just to eat there and buy a t-shirt. We'd make a night of it and spend the evening strolling around the marina, listening to music, eating ice-cream and hoping to spot 'Jake,' the great-grandson of the legendary 'Salty Dog.' Jake was a fisherman's dog and one night, many years ago their boat capsized and Jake paddled for 3 days and nights with his owner hanging onto his collar until they reached the shore. Sounds like a bit of a folktale to me but it sure has sold a lot of t-shirts.