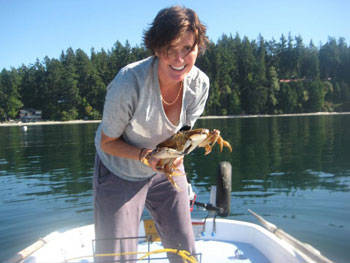 When I am at my home on Orcas Island, Washington and away from the concrete jungle of Los Angeles, I morph from a well dressed city slicker to a somewhat cave-like hunter and forager.
At this time of year, I trample around the forests, looking in the ferns with my beady eyes for the first sign of fiddleheads, I watch the crocuses peep up through the ground as the blossom bursts on the apple trees; but most of my cavewoman thoughts are towards the ocean, the icy, clear ocean filled with great big fierce Dungeness crabs.
Catching crabs is my passion. This past winter, the season opened for a few weeks in December and I was out there in my little row boat, freezing rain pelting down, hardly able to find my boeys due to the rough water; my husband watching bewildered through binoculars, from our little cottage; and as I pulled up my traps to see my haul of crabs, I was happier than a child on Christmas morning.