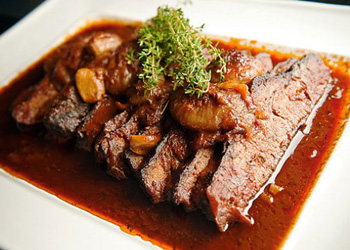 I've tried many brisket recipes and this has become a longtime favorite. The method comes from a Cooks Illustrated recipe that requires a few hours of unattended cooking, as well as advance preparation. After cooking, the brisket must stand overnight in the braising liquid that later becomes the sauce; this helps to keep the brisket moist and flavorful.
Defatting the sauce is essential. If the fat has congealed into a layer on top of the sauce, it can be easily removed while cold. Sometimes, however, fragments of solid fat are dispersed throughout the sauce; in this case, the sauce should be skimmed of fat after reheating.
If you prefer a spicy sauce, increase the amount of cayenne to 1/4 teaspoon. You will need 18-inch-wide heavy-duty foil for this recipe. If you own an electric knife, it will make easy work of slicing the cold brisket. You may substitute matzo meal or potato starch for the flour in this recipe.