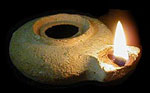 "Latkes are a kind of oil, into which small quantities of shredded potato have been infused." -- Jonathan Safran Foer


Latkes, also known as potato pancakes, are a traditional treat to eat at least once during the eight days of Hanukkah. The reason you eat latkes for Hanukkah is because they are fried in oil. Why oil? Hanukkah celebrates the re-dedication of the second temple after a battle and along with the victory came the miracle in which mere drops of oil in an oil lamp lasted eight days. The "miracle" is much like a story about a fat man coming down a chimney with presents...
A real miracle would be to have perfectly crispy and not-so-greasy latkes. For years there has been a debate in my family. My mom and I spoke up in defense of shredding potatoes for latkes, and my papa insisted that grating lead to much crispier ones. It's all in the technique, as most recipes call for the same ingredients--eggs, flour or matzah meal, onions and potatoes. Last year I had some of the crispiest latkes ever and guess what? Papa was right. Grating does make them crispier. That and frying them in the just right amount of oil at just the right temperature of course.