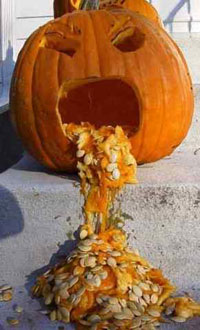 Each holiday comes with it's own brand of unpleasantness and disappointment. New Year's Eve offers forced joviality along with the prospect of being French kissed by a blowzy stranger with Cold Duck on her breath. Christmas means spending lots of thought and money on presents for people who already have way too much stuff and enduring long hours with folks you'd never spend five minutes with if you didn't share a smidge of DNA.
However, most holidays also have an upside. Thanksgiving often brings out the charitable side of people who donate to food drives and volunteer too serve dinner to those in need. Easter signals the final days of winter and sometimes the final round of the Masters.

Then, there's Halloween, the holiday, with no redeeming features. For starters, it's not even a proper "holiday" because nobody gets to miss school or work.