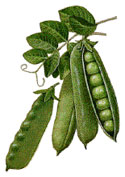 Most of you would find it odd,
Lining up inside a pod.
But in fact it wouldn't be,
If you were a baby pea.

Hush little mushies,
Lay your caps and heads
Gently on your cozy mushroom beds.
The loam's soft and spongy,
The light's right for fungi,
So hush little mushies, hush.