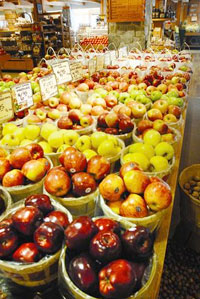 Living in Los Angeles, we know it's Fall by looking at our calendars not by the weather. October is usually one of our hottest months with no colorful, falling leaves, frost or crisp, cool days to be found. While I don't miss Winter, after two decades of living in the California sun, I still desperately yearn for the sights and smells of Autumn.
Since traveling is rarely an option, I have begun to enjoy the season by living vicariously through pictures and blogs I find on the Internet. The current crop is all about apples. The visions of pies, tarts and cakes, as well as piles of this fresh fall fruit have left me craving one of my childhood's sweetest and simplest joys: the Atkins Farms Cider Donut.

My grandmother was obsessed with them and subsequently, so were we. It was her way of treating us, without breaking her bank. (They cost a quarter a piece then, now still a steal for 50 cents.) Once harvest season began, we'd head out to Atkins to indulge in their – now famous – baked goods...and fresh-pressed apple cider. Heated to take the chill off the morning.
They bake the donuts fresh every day, infusing them with the cider and liberally dusting them with a mixture of cinnamon and sugar. The recipe hasn't changed in over 35 years with good reason. In 2008, they were rated by Saveur Magazine as one of the 12 best donuts in the country. Something I – and most of Western Massachusetts – have known since 1972. Well, 1976 for me.