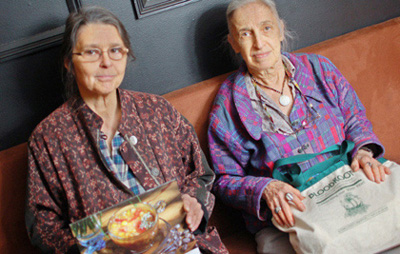 Restaurants aren't supposed to be real. Real you can get at home. Restaurants are for fantasy of one kind or another. A shot-and-beer bar with sawdust on the floor can fulfill a fantasy or bolster an ego as well as an elegant French dinner with all the trimmings. It just depends on who you want to pretend to be at the moment.
All this comes to mind because Jill and I went to a restaurant that belies everything I just said. There's not a drop of fantasy in the package. It's simply what it is and it does what it does and it's been doing it at the same location for thirty-six years.
Bloodroot is a self described vegan/vegetarian/feminist restaurant that was created all those years ago by Selma Miriam and Noel Furie. Selma runs the kitchen and Noel holds down the front of the house. They've perfected their act and they do it exactly the way they want to do it. Your fantasies are not the issue.
When you walk in, Noel instructs you to look at the menu listed on the wall. You tell her your choices and pay up front.
"They'll call out your name when your food is ready and then you get yourself a tray and carry it to your table."