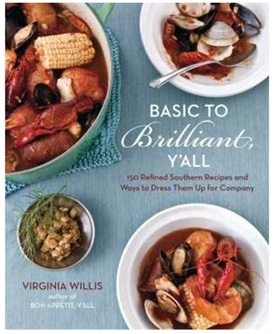 Virginia Willis is like the Southern cousin you wish you had. She's smart, funny and warm and has a mischievous sparkle in her eye. I finally got to meet her earlier this year in Monterey at Cooking for Solutions. She did a cooking demo where she had the audience laughing over a story about her appearance on the Paula Dean show (the story is in her latest book, by the way). But what I remember most is the spectacular dish she made with trout. I can still taste it in my mind. It was pan-seared trout drizzled with pecan butter and topped with an incredibly rich smoked trout salad. And the recipe is dead simple. That's the signature of Virginia Willis, amazing food that really isn't all that difficult but definitely something extra special.

Virginia's latest book, Basic to Brilliant, Y'all
, is all about the "something extra special." Each recipe has a simple component--like the seared trout, and an optional brilliant flourish--like the topping of smoked trout salad. It's what makes this cookbook a real keeper (even if you have other Southern cookbooks). The recipes are fresh and modern and reflect both Virginia's Southern roots and her French training so you'll find recipes like Savory Monkey Bread, Coca Cola Cake and Creole Country Bouillabaisse.