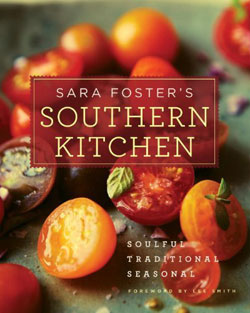 I met Sara a few years ago in the Bahamas and quickly discovered she is the kind of person everyone knows. As the owner of Foster's Market in Durham and Chapel Hill, North Carolina, Sara is the author of several cookbooks and has numerous appearances on Martha's show as well as the Today show. I have yet to make it to her market but in the meantime I'm so happy to have this book.
Her latest, Sara Foster's Southern Kitchen
is filled with traditional Southern favorites as seen through Sara's kitchen. It's a book that you can't help but get hungry from just looking at it as it's packed with Southern favorites that I want to eat this very second.
All the classics are there with contemporary twists like Shrimp Jabalaya, fried chicken, brisket and spare ribs. Now can you see why I'm all about this book?