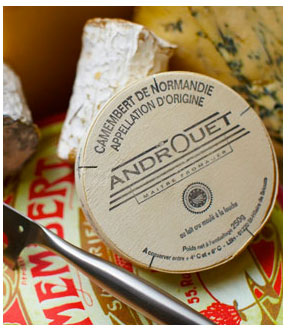 How did it happen that the Androuet Restaurant in Paris could quietly disappear without fanfare or protest? How could it become a dilapidated sign over a store front; soulless, diluted and gone? Why have I waited so long to write about it? Secretly, I hoped that somehow it would come back to life.
The original cheese shop, ripening caves and restaurant was located on Rue Amsterdam. Rue Amsterdam was quirky and not so nice an area. The street was long and one-way. We would circle around for half an hour to be able to park close enough to be safe after dark. It was Mecca for a cheese lover - I am a zealot.
The tiny, refrigerated shop on the first floor was filled with every cheese made in every corner of France. Each one was 'a' point'-- perfectly aged and ready to eat. The three tiny, older women tended the inventory of cheeses constantly. When you walked in there was no grand greeting, only a quick look up and aloof 'Bon jour'. I always wondered if they knew how difficult a place it was to find. If they did know how much effort it took maybe they would have been kinder. It doesn't matter now because the best cheese shop in the world is gone. Maybe their intense concentration is what it took to maintain such high quality.
Cheese is like wine; it opens in your glass-the first long sniff of its' aroma to the last sip of perfectness. Cheese is like that as well - birth, aging and perfection and it then it gone, too. These three women struggled to keep so many cheeses perfect. Most, barely lasting a day or two. I understood why they never looked up from their arduous work.