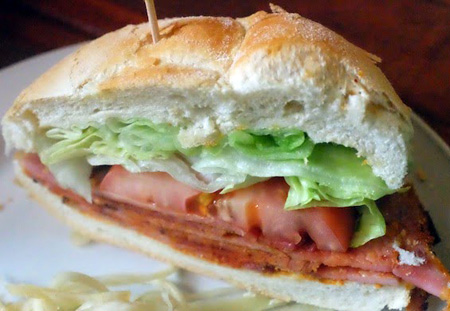 On my first trip to a city I always try to experience the things that the place is famous for, especially the food. Recently I was in Toronto which is a very diverse city with all kinds of food, but the peameal bacon sandwich is one of its most iconic specialties.
Toronto was once known as Hogtown, thanks in part to the vast stockyards where in the mid to late 1800's cured pork products like bacon were sent to the United Kingdom, where there was a shortage at the time. In 1900 over half a million pigs were processed for export in Toronto.
So what is peameal bacon exactly? It's what we call "Canadian bacon" in the US. It's made from pork loin, rather than belly, so it's much leaner than typical bacon. It's brined and cured, not smoked. It was originally rolled in ground dried yellow peas to help preserve it, but cornmeal became much more widely available in the 1900's and also preserved the meat better.