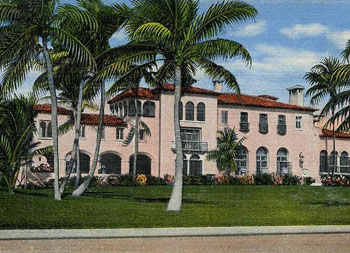 Palm Beach is different from other tidy resort cities that line the Florida Coast. While remarkably tidy, it is also both eccentric and pretty, and I do believe it has its own wacky, elegant soul.
If indeed there is an aesthetic soul fluttering in Palm Beach it is the work and influence of a Californian artist turned architect, Addison Cairns Mizner. In 1918, Mizner moved to Florida just as resort hotels were fading in popularity and private ocean front mansions were becoming the rage. His hurricane resistant Mediterranean Revival designs set the standard in romantic opulence, making him the society architect of choice. Snubbing the cookie cutter effects of modern architecture, Mizner brought a bit of mystery to his estates and private clubs creating a rambling "add-on" quality to his spaces. Besides his famous structures, his work thrives in courtyards and narrow alleys off Worth Avenue where you can stroll, check out the small privately owned shops and "discover" your newest, secret rendezvous – Renato's.
Not that Renato's needs discovering! Renato's is old Palm Beach, the way the Bel Air Hotel is old LA: There is a charming, relaxed insider atmosphere with just the hint of indiscreet desire – the best spice for a really good dish. And, good dishes are only an order away, if you can catch your waiter's attention. Do not expect to see empty tables here.