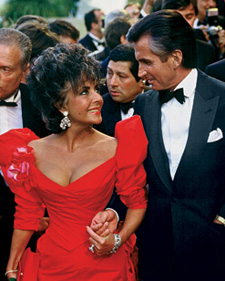 Just for fun, close your eyes. Picture Zsa Zsa dining at Bistro Garden or Liz at Chasen's – bejeweled and pleasing to the eyes. Imagine charming George Hamilton tanned and natty in his double- breasted blazer table-hopping his way around the room. Now open your eyes. If the vision remains, then you must be in Palm Beach! And, guess what! You'll still see charming George tanned and natty in his double-breasted blazer table-hopping his way around the room – along with Jimmy Buffet, Rod Stewart, Donald Trump, Vic Damone, Dina Merrill, Susan Lucci, the indomitable Dame Celia Lipton Ferris, Ann Coulter and Rush Limbaugh.
Surely, you understand the delight for a Left Coast Malibu Beach Bum time-warping on the "Right" Shore. For someone who actually remembers the bridal trail down Sunset Blvd and a laid back Rodeo Drive of local businesses, Palm Beach and Worth Avenue is the old Beverly Hills I most cherish. Here in Palm Beach most of the upscale restaurants recall those old glamour days, and their menus cater to the pre-foodie crowd who like their food simple and well prepared.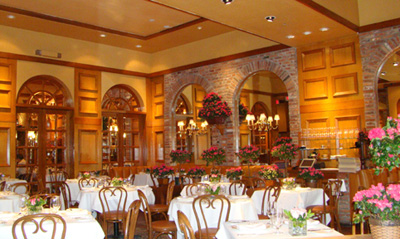 Café L'Europe most exemplifies Beverly Hills posh dining from the eighties. The interiors, with décor reminiscent of the Belle Epoch – sparkle like champagne. Gaiety seems part of the menu with its varied list of Iranian, Russian, Italian and domestic caviar, Sliced Scottish Smoked Salmon, Escargot Bourguignonne, (any one who ever lived in the Colony knows an excellent snail when they see one!), and a ninety-eight page wine list. Besides, where else might one be entertained by a 97 year old scam artist doing the "there is a fly in my soup" routine. (Seems this 97 year old doll just got married; some say she married her 95 year old groom for his money! I figure she simply prefers younger men. Go Cougar)
For my first course I chose their utterly brilliant Lobster Bisque "Cappuccino", an elegant, dark combination of subtle flavors that defied any deconstruction. It was topped with French vanilla foam. Bill had his usual – a traditional Caesar Salad, while our friend, Bonnie McElveen Hunter (who chairs the American Red Cross) had the simple mixed green salad with tasty fennel and cucumber bits. Other appetizers that have proven wonderful: Crispy Veal Sweetbreads with wild mushrooms and asparagus, Scottish Smoked Salmon Tatare with American Sturgeon Caviar, and a Seafood Trio – a combination of Maine Lobster Salad with Orange Segments, Jumbo Lump Crap Salad with Citrus Aioli and Gulf Shrimp Cocktail – a favorite of mine since I can never make my mind up!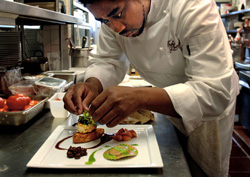 Pasta choices include a Maine Lobster Risotto and Cappelacci Trasteverina – pasta envelopes filled with Spinach and ricotta cheese with a tomato basil sauce.
I usually order the Wiener schnitzel with spatzle and red cabbage, a classic and always wonderful, but this time we all tried the Dover Sole which was sautéed and served on a bed of asparagus and mashed potatoes. Looked nice, but can't help but feel a delicate filet should rest on something a bit less spongy than mash potatoes.
We passed on the Trio of Crème Brulee, Caramelized Grapefruit, Frozen Caramelized Chocolate Banana Souffle, or their Chocolate Goddess Cake (Layered with chocolate sabayon, chocolate truffle cream, caramel and dark chocolate mousse quenelle of Haagen-Dazs Macadamia Nut Brittle Ice Cream) accompanied by a glass of Chateau D'Yquem …shall I go on?
I still had their Lobster Bisque on my mind.
Cafe L'Europe
331 South County Rd.
Palm Beach, FL 33480