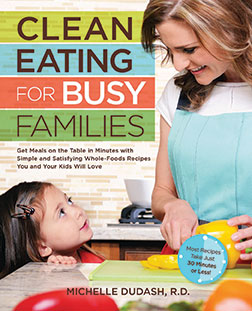 For busy parents across the country, deciding what to make for dinner each night can seem like a chore — Is it something the kids will like? Is it healthy? Is it affordable? Is it easy to make?
Michelle Dudash, licensed nutritionist, TV personality, wife, and mom hopes to make life easier (and tastier) for busy parents and kids with her cookbook Clean Eating for Busy Families.
Dudash understands that the best intentions for healthy family dinners can be thwarted by late work nights, hectic schedules, difficult recipes, tempting take-out, and finicky eaters. That's why she has designed doable, healthy, whole-foods recipes, most of which can be made in under 30 minutes.