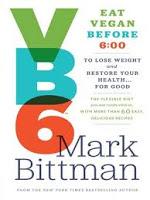 When is a diet book, not a diet book? Diets are often considered temporary, just until you lose weight, or get a medical condition under control. But if you are celiac, then gluten free is more than just a diet, but a a way of life. Some dietary changes are necessary, others might be considered optional. Several books have caught my attention recently, because on first glance you might think they are diet books, but they could really be seen as "lifestyle" books, because they represent changes for the long term, not the short term.
Recently I was at a breakfast with Mark Bittman and he discussed his latest book, VB6
. After being told his health was at risk, Bittman decided to adhere to a new way of eating, "vegan before 6 pm." Everyone wants to talk to him about cheating, and the first thing he did at the vegan breakfast was request dairy milk for his coffee. Let's just say he's flexible and that's probably key to his success. He's lost weight, lowered his cholesterol and blood sugar.
VB6 is not a cookbook, although it does include about 60 recipes, not all of them vegan, it's more about how to change the way you eat. Bittman also reduced processed non-whole grain foods like white bread, pasta and rice. Whether you go vegan before 6 pm or just start increasing the number of vegan meals you eat in general, the benefits seem pretty clear. And if you're worried about what options you'll have for breakfast, Bittman covers that too (think smoothies, cereal, tofu scrambles, nut butters on whole grain toast and fruit parfaits).