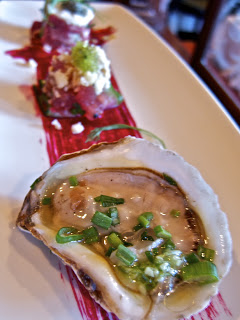 Treat yourself to the pleasures of well-prepared meals in comfortable settings by starting at the Driskill Hotel, centrally located at the corner of Brazos and Sixth Street. For dinner, the Driskill Grill creates a quiet space behind the busy, noisy Driskill Bar, one of the city's most popular gathering spots.
The Grill has the look of an early 20th century gentlemen's club, with dark wood, oil paintings and sconces on the walls. In that elegant setting, the very modern menu draws inspiration from the dynamic world of contemporary farm-to-table dining with a Southwestern touch.
A tasting is a good way to experience the extensive menu. Executive chef Jonathan Gelman's plates arrive at the table with a painterly touch.
Deep red brush strokes of caramelized beet juice decorate an appetizer plate with tastings of beef tartar, ahi poke, and a Prince Edward Island oyster on the half shell.