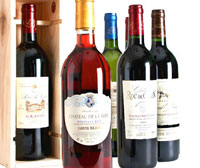 The other day I took a walk through Wally's, my local wine emporium's autumn sale and was bottle shocked by the number of kosher wine choices on display—Ninety-seven Jewtique labels. From Israel to Australia to the Valley of Napa, there are rabbis rendering grapes right for Jewish tables the world over.

Although pleased as wine punch that my brethren can sip with confidence from so many vineyards at all the holiday tables to come, I felt drowned in a sudden wave of nostalgia, for, over in a less popular corner, I spied some "Man Oh Manischewitz – What a Wine" languishing, neglected for a mere $4.99 in its own dust.

And a flood of bittersweet tasting memories ensued…of my parentally enforced Prohibition. The years of my youth when I was served Welch's grape juice in a grown up glass at the holidays to placate my longing for the real deal. I sipped the faux, while the elders were slurping Manichevitz, the manna of the God, the only choice in that era, with lip-smacking satisfaction. I'd lift my grape laced goblet, toast and boast—'Lookit! Lookit how fast I can drink it!"