"I think the increased number of 1920s themed parties caused the current economic crisis. There I said it." - Alexis Brodey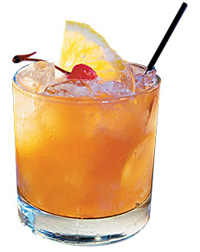 I love old timey things. I even love the term old timey. Whenever I hear it, everything turns into sepia tone and rag time music starts playing. Then my iPhone rings and I realize I need to update my blog and twitter. I'm happy I wasn't born in the 30's but I enjoy many things about it. Mainly the influx of bars that seem to embrace that old timey feel. Did Mad Men have something to do with this? Probably. I'll be the first to admit prior to watching Don Draper I never had an Old Fashioned. I now love Old Fashioneds. I even make a really good Old Fashioned.

Since I'm not the biggest drinker, I never really want to visit a random Hollywood bar and order a gin and tonic that tastes generic. I tend to stick to very specific bars that do very specific things. Let's say I want a tropical drink. Easy, I go to Tiki Ti in Los Feliz. The bar's been open since 1961 and challenged Trader Vics for the best tiki bar ever (and won). Currently I'm really into bourbon. This led me to the great bar SeVen Grand on 7th and Grand downtown.
SeVen Grand is a mix between an old timey bar, a hunting lodge, a gentleman's club and a place where stockbrokers hang out after ruining peoples lives. They have over a hundred types of whiskey and really great bartenders. My favorite bartender is a guy who I refer to as "Last of the Mohicans" because he has an indie mohawk.