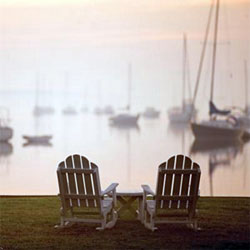 We'd walked past it a couple of times, a simple storefront set back from the street with a small porch, a glimpse of tables inside, unassuming. The Key Lime Cafe. Full at lunch-time, we assumed it was a Maryland version of a diner. We never even ventured up on to the porch....

We walked across the road to Big Al's Fish Store the first day for lunch and had a fried clam sandwich, we had fancy hotel food at the Perry Cabin and so much soft-shelled crab that Alan spent an afternoon in bed.

We'd moved my son into his dorms at George Washington University in D.C. three days before and driven to Chesapeake Bay to the small town of St. Michael's, Maryland (birthplace of Frederick Douglass) for a few days of rest. It was hot and we were tired and the plantation style Inn at Perry Cabin was a lovely place to rest.