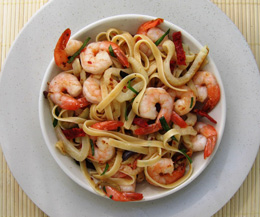 As a little girl, my favorite candies were Twizzlers and black jelly beans. Every Easter I would pick all the black jelly beans out of the bowl and leave the rest for everybody else. Though I rarely eat jelly beans any more, I love to cook with fennel, which has a distinctive licorice scent and flavor.
Although fennel has become fashionable over the last couple of years, this herb has actually been enjoyed in cooking since antiquity. Many cultures use fennel as a culinary ingredient and as an herbal medicine, and as evidenced at my house, it's a staple in Italian cooking.
It is a remarkably versatile herb and pairs beautifully with fruits such as oranges and apples as well as classic Mediterranean ingredients such as olives and eggplant. When eaten raw, its crunchy celery-like texture and sweet licorice flavor gives depth to salads. When sautéed or roasted, it takes on a savory quality. In fact, all parts of the fennel, from the bulb to the feathery fronds, are edible.
And since it's St. Valentine's Day this week, I thought you'd like to know that ancient Romans considered fennel an aphrodisiac and likely would have used it instead of chocolate for a romantic evening. As so many culinary trends are cycical, I'm predicting that fennel will become the new chocolate for Valentine's Day.