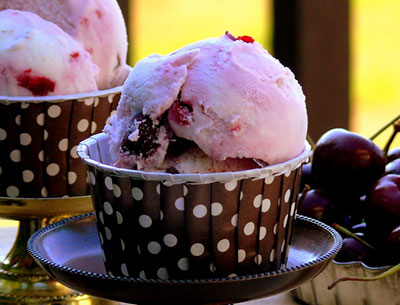 Ever since making coconut ice cream, well, I am in love with the stuff. It's so refreshing and addicting! It makes me feel like I'm on a tropical vacation. I knew I wanted to make different versions of that ice cream very, very soon.

Then, my friends at Republic of Jam just happened to stop by our tasting room (okay, they are right next door) with 6 quarts of freshly picked, sweet Pacific Northwest cherries. After eating about 2 quarts myself (swear), I decided to make ice cream. And chocolate needed to be involved...it just did.
In my adventures around the internet (I could read food blogs all day), I found OXO has a new cherry pitter,...and wait for it...it has a splatter screen. Yes folks, it's the little things. I have no other choice but to get this, like NOW. While I love my cherry pitter, it sprays juice, the seed goes flying, the dog chases it and swallows it. It's a mess and I've ruined quite a few articles of clothing. I need the screen and I'm getting it.
Anyway, what I love about this ice cream...there is no-custard, but you do have to make sure your ingredients are cold. In other words, some planning is necessary.