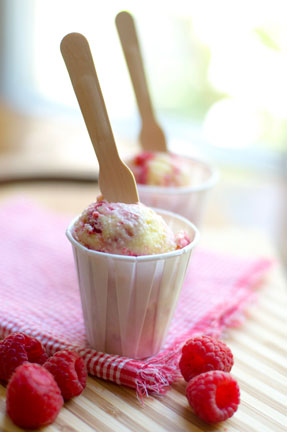 Each week, Levi gravitates to the fresh raspberries at our local farmers market. He insists on buying them claiming to "love them". He eats 2 or 3 and then he is done. I pack them in his lunch box and a few stragglers end up coming home with him. I can't toss them. So, I either eat them or throw them in a baggie and put them in the freezer.
I had just enough fresh and frozen raspberries to make David Lebovitz's
Raspberry Swirl Ice Cream. Doesn't that sound good? I haven't made any ice cream this summer and it has been on my mind. Today, the kids are going to arrive home from camp to a very, very, sweet treat.
This recipe calls for vanilla extract. Instead, I steeped the cream with a fresh vanilla bean. I cut the pod in half, scraped out the seeds and threw them in the bowl of cream along with the pod. When it came time to add the custard to the cream, I removed the pod and saved it to make some vanilla sugar.
This ice cream is a small reminder that summer is here and it is here to stay for just a little while longer.