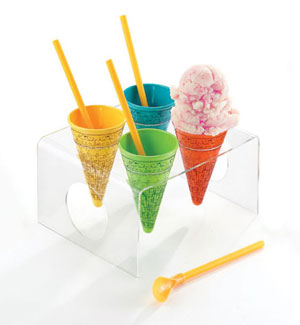 "We all scream for Ice Cream..." but what flavor and from what shop and why? National Ice Cream Month begs the eternal question, "What's YOUR favorite kind?" One for the Table asked some of our favorite scoop fans to reveal their guilty pleasures....
Andy Warhol Ice Cream Cones w/ Tray
Mine is the caramel gelato at the Piazza Del Popolo - when in Rome there is NOTHING better - Or was it the gorgeous young purveyors seductive,"Bella, Signorina!!!"

I always order toasted coconut almond. Not because I like toasted coconut almond. In fact, I hate toasted coconut almond. I just order it because I feel sorry for it because everyone hates toasted coconut almond. So I order toasted coconut almond, dump it in a trash can when no one's looking, then go back to the store and order cherry vanilla which I really like. – Alan Zweibel, writer
"You haven't had ice cream till you've had Graeter's. The butter pecan is Stedman's favorite, and mine, too." — Oprah Winfrey from her O list

A Tin Roof Sundae ! ! French Vanilla Ice Cream is topped with warm heavy chocolate syrup mixed with some finely ground black pepper and the roof, of course, are salted peanuts. Go way! Get your own! – Marilyn Lewis, owner of Kate Mantillini.
Sadly, not available to the public. My husband's freakish devotion to our Masso Gelato maker helped him churn out "Earl Grey Tea with Honey" gelato. The best thing I've ever eaten! – Eva Ein, co-owner of Stella Mare restaurant in Montecito

Stephen Colbert believes the Ben & Jerry's flavor made in his honor, AmeriCone Dream, can make a difference. "I'm not afraid to say it. Dessert has a well-known liberal agenda. What I hope to do with this ice cream is bring some balance back to the freezer case."
My favorite flavor is, and has been for forty years, 31 Flavors Jamoca Almond Fudge. I get it on Cerrillos road, in Santa Fe. – Brooke Palance Wilding, artist
There is absolutely no question that the best ice cream is made on Nana's terrace in the back garden in Waco, Texas. We still use the old fashioned rock salt and real cream but have finally acquiesed to an electric turning handle. When the fresh peaches reach their ripest that is the time for an ice cream party. Everyone gathers. The mint julieps flow and ice cream becomes the flavour of the evening. – Alice Faye Cleese, Radio Host