Excerpted from Lulu Powers Food to Flowers: Simple, Stylish Food for Easy Entertaining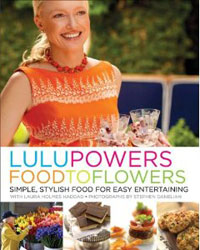 Nothing says New England like a good old-fashioned clambake. This is a modern clambake, with lobster rolls substituting for the classic clams (and clam chowder on the side). And it's versatile: this party can be thrown indoors or outdoors, and almost every dish can be made ahead.
The best clambake I ever attended was on Temperance Island, a private island in Connecticut owned by my sister Molly's in-laws, Susan and Sandy Kellogg, affectionately known as Su-Su and Pops. The Kelloggs grew up on the water, and they open their house from April to November. The first time I visited, I felt as if I were in a Norman Rockwell painting. Sitting on the big, wide porches, digging steamers outside the front door at low tide, and living without electricity sends you back in time. We pulled our own lobster traps and had a feast of fresh lobster, clam chowder, and fresh corn.