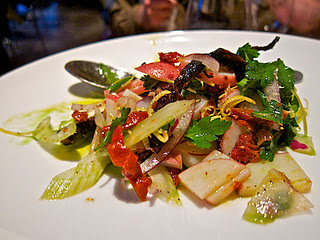 On a recent food tour of Spokane and Northern Idaho, enjoying the beautiful scenery with clear running rivers and crystal blue lakes, I discovered a handful of restaurants that are living up to the promise of farm-to-table.
In Spokane, our group of fifteen sat down at a long table at Italia Trattoria. Chef and co-owner Anna Vogel talked about the abundance of small farms within a hundred mile radius that supply the restaurant with the majority of its produce, cheeses, poultry, eggs and meat.
She and partner, Bethe Bowman, were attracted to Spokane's small town, cosmopolitan feeling. A small enough version of Seattle where their restaurant can, as she said with a smile, "change the way Spokane eats."
If I lived in Spokane, she would certainly change the way I eat because I would come as often as I could.