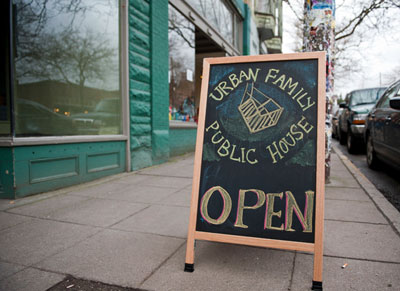 About a week or so ago, the husband, pup, and I went to Seattle to see my family and spend some time in the (rare) Seattle sunshine. We went to the Ballard Farmer's Market, a plethora of fresh produce, handmade jewelry, talented street musicians, and just about anything you would want to see. The Ballard Farmer's Market is the quintessential example of why I love Seattle down to my very core. If a stranger ever asked me for the perfect Sunday morning activity, I would tell them to first, a latte at Caffe Vita and then stroll along the street, past the boutiques, thehotcakes shop, and the antique stores to the farmer's market. Oh yes, and follow it up with a cupcake.
As we ended our foray into the market, after making about three loops past the Danish pastries, the bunches of vibrant flowers, and the hand crafted necklaces, we stumbled across a chalkboard sign inviting us to eat and relax on a deck... with our dog. Now, I know that Seattle is down with the doggy friends, we've been to Norm's and have wanted to check out Shorty's in Belltown, if it wasn't for our mutual fear of the clown decor. But nevertheless, the opportunity to sit back, savor the sunshine, and grab a bite with our four legged friend is something we will not pass up.
And that's how we found the Urban Family Public House. Snugly tucked in beside Staple & Fancy on Ballard Avenue, the pub was the perfect setting for some quiet conversation, a filling and tasty sandwich, and of course, a cold IPA.