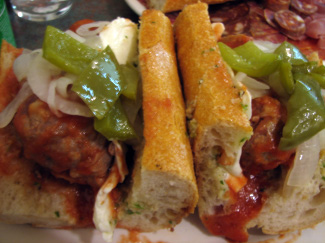 Have you been to Seattle? If you have, perhaps you've experienced what I have--that everyone there is awfully nice. I don't mean to generalize but from all of my visits over the years including a stint working there, it's true.

My visit to Salumi in Seattle is a perfect example. I had a terrific lunch with Molly of Orangette that consisted of a selection of salami each intriguingly flavored with smoked paprika or fennel or a mix of spices, prosciutto and the most outrageous meatball sandwich ever. Really.
Imagine a crunchy roll, perked up with a slathering of garlic and parsley spread, obscenely stuffed with big fat and fluffy meatballs with shreds of prosciutto in them. Top that with sauteed peppers and onions, thick slabs of fresh succulent mozzarella, and doused with homemade tomato sauce. Heaven!
Stopping in back to peek at the operations and chat with owner Armandino Batali I was treated to a bit of Mario gossip and a great chat about food and the Seattle and Bay Area restaurant scene.
To top it all off when I asked which salami would travel well I was handed a mole salami, gratis.
Seattle is filled with treats like this. I wish you all the same on your culinary adventures.
SALUMI: 309 Third Ave South, Seattle, WA 98104 / (206) 621 8772
Amy Sherman is a San Francisco–based writer, recipe developer, restaurant reviewer and all around culinary enthusiast. She blogs for Epicurious , Bay Area Bites and Cooking with Amy.