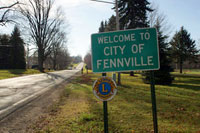 Living in a city with 6,000+ restaurants, why would you ever drive 150 miles to eat in a city with a population of 1,500? For me, it's a kind of a Hillary Clinton type thing. She was right, it does take a village to raise a child. Unfortunately for my wife and I, parents of a 16 month old boy who believes soil is a basic food group, we left the village back in our home state of Michigan when we moved to Chicago. So when we need a break from the exhaustive process of keeping our son's mouth free of dirt and other things you find on the average floor, we gotta go to the village.
It turns out Fennville, a one Subway franchise town surrounded by farmland and located two hours from Chicago and about six miles from the nearest freeway, is the perfect halfway point between Lansing, home of my in-laws, and our West Loop loft. Luckily for us, it's also home to one of Michigan's best restaurants, the Journeyman, our drop off point for junior's sleepovers, aka parental sanity breaks, with the grandparents.
The Journeyman is a culinary dream, a destination so incongruous with its location you're not sure it really exists.