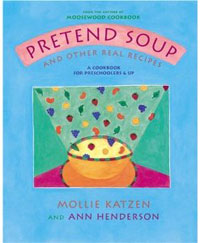 One of the highlights of my experiences in Portland, Oregon was the dinner I had at the 2010 James Beard award-winning Higgins Restaurant and Bar. The dinner was hosted by the the California Walnut Board and best-selling cookbook author, Mollie Katzen.
I couldn't wait to meet Mollie. I have her book, "Pretend Soup," a cookbook for preschoolers and up. I used it often when I worked in the early childhhod field. Because I loved "Pretend Soup"
so much, I had to buy "Honest Pretzels"
several years later. Mollie Katzen wrote this cookbook for grade-schoolers and up. I knew it would be a good one to enjoy with my grandchildren.
It was no surprise to discover Mollie is just as delightful as the darling illustrations she has created for her books. Her eyes begin to sparkle as she talks about her work to get families to eat more healthful meals, bridging the gap between good taste and good health. Her newest book, "Get Cooking"
makes it easier for the beginner cook to get into the kitchen, gain confidence and have fun creating meals. And for more experienced cooks, the cookbook is proof that it doesn't have to take all day to make a healthful dish and that healthful food can be absolutely delicious.