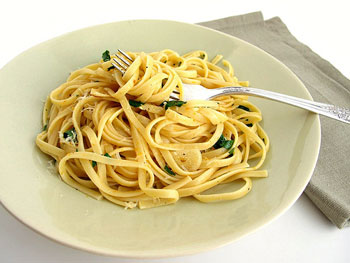 My love for Meyer lemons continues this week with another dish using these amazingly flavorful citrus fruits. This time it's a pasta dish that's done in less than 15 minutes. It's meatless, so it's great for vegetarians. But the savory flavors of garlic and crushed red pepper will also appeal to the meat-and-potatoes guys. But what really lifts this dish is the Meyer lemons, which add a tantalizing zing that refreshes the palate.

As fast as you can boil pasta is as fast as you can make this recipe. The sauce is made with just the lemons and some pasta water. Then it's a matter of finishing it off with Parmesan cheese and parsley.
Make this meal in minutes—it's perfect for the weeknight when you're lacking the time or creativity to make anything complex. And if you can't find Meyer lemons, use regular ones and get results that are just as great.