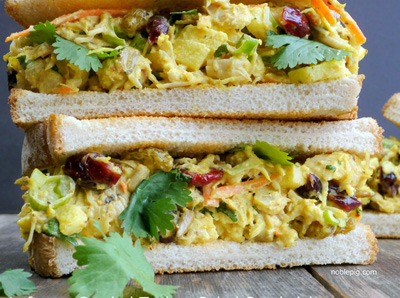 I'm calling it…the last of the Thanksgiving leftovers that is. This was truly the end of my turkey…those last two cups of shredded meat. It is December, time to wrap up this turkey thing and move on to the next holiday. However, I do know lots of you also make a gobbler for Christmas, so this recipe might come in handy at the end of the month. You're welcome:).
I have to say I thought long and hard on how I was going to use up these last bits of the Thanksgiving bird. For me it's a challenge, there's no way I'm going to serve it with gravy like the regular holiday meal. I want to make something completely different.
Since it was lunchtime and after I fiddled through the spice cabinet, I decided on this A-M-A-Z-I-N-G sandwich. I added everything I possibly could because texture in a sandwich like this is key. Is has to have crunch.
My husband had it for lunch and requested more for dinner…it was that good. This is definitely a nice way to send off the bird for another year. (Okay I'm lying, I've stockpiled two turkeys in my deep freeze. I know I'll be breaking them out over the winter.)