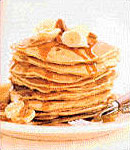 Once upon a time, when my future husband and I had just started dating, he called me one Saturday morning to see what I was up to. I was in the car with my friend Phoebe and a trunk full of laundry.

"We're going to Michael Green's for breakfast," I said. I had him on my Reagan-era car phone, which had a curly cord and a speakerphone, which may as well have been a tin can attached to a length of string.

Peter thought about this for a moment. "Is that a restaurant or a person's house?" he asked.