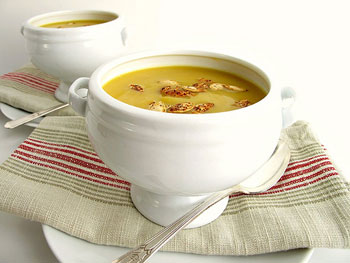 Pumpkins are as much a part of fall as apples, cider, turning leaves, and chilly weather. The months of October and November call out for pumpkins—just think Jack-o'-lanterns and pumpkin pie! Like their brethren squash, pumpkins work well in countless recipes—and not just sweet desserts but savory dishes too.
Soup is one of my favorite ways to enjoy pumpkin. I make it every October. When I cook pumpkin soup, it officially feels like fall. Flavored with a little nutmeg for warmth and then garnished with pumpkin seeds, it's perfectly comforting. (Don't throw away the pumpkin's seeds, use them in this soup.) A hot bowl of soup always warms me right up.
I start this recipe by roasting the pumpkin. But with the shortage in pumpkins, you could also substitute butternut squash or acorn squash. The base of the soup is a vegetable stock, making it vegetarian-friendly. I like to use my own homemade stock because I can flavor it the way I want.