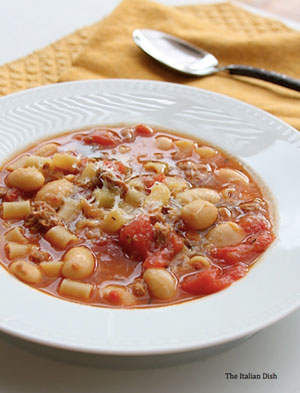 This soup, along with a green salad and some nice bread, is a great dinner for a chilly night. This soup is loaded with sausage, beans and ditalini pasta. It's really a pretty traditional "Pasta e Fagioli" soup, but with sausage. I've made the soup with turkey sausage, but you can use any sausage you like.
I've used dried beans to make the soup. You can certainly use canned, but if you've never cooked with dried beans, you should try it. Some people are confused about dried beans and don't know how to soak them and cook them. But there really is no mystery to it at all – it's very easy. Soaking simply softens the beans so that they have a shorter cooking time. That's all.
And you don't really even have to soak them. If you forget to soak them, simply cook them longer. I just throw the beans in a pot and cover them with water and let them soak all day. I drain them, add fresh water and then cook them until they are tender. That's it.