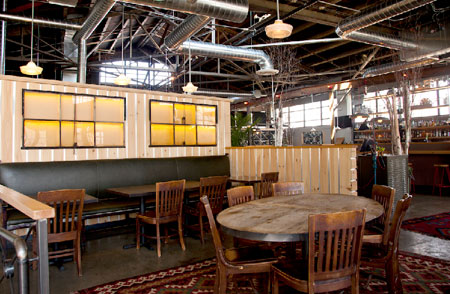 It's Thursday, it's late and we parked blocks away because the lot is full at Steel & Rye. We're good though; one of us thought to make a reservation so we're seated right away. The room, formerly a warehouse with 20-foot ceilings and huge windows in 7,000 square feet, is noisy and fun. This is a light supper night in an eclectic American setting and we're casual, having come from dance classes, but it doesn't matter at all.
Hungry as hippos after a big tap-out, now we have our menu and we're breaking out the flashlights. It's weird because you can't call it dark exactly and you better not call us old. I should have taken the menu because what's online is a "sampling of our offerings" since the selections change nightly.
We start with Domaine Pichot Vouvray. It's light and raisin-y with a tart apple finish. Good choice because now we're digging into cream-based squash soup with pomegranate. I'm finding ginger, maybe pumpkin, and apples. No clue what's making it so light and fluffy. (You'll see mushroom soup with duck and eggs for $11). We use brown bread to mop up; it's what they call in New England anadama bread which usually means wheat flour, cornmeal and molasses. Anadama bread turned up in Rockport, MA in the mid-1800s. Smooshed along the steel plate, the butter's filled with salt crystals and from the bottom of my heart, thank you, Steel & Rye for no olive oil, no honeyed spread and no hummus - it's just butter.