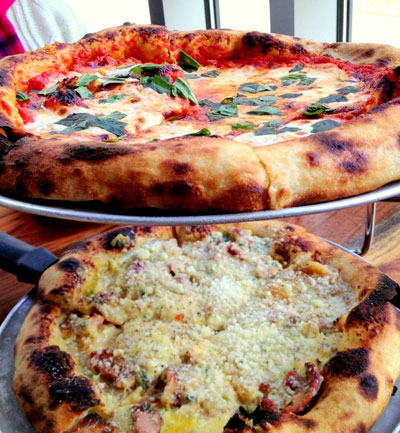 It's inauguration Monday. Neither bison nor lobster's on our Cambridge menu but we're celebrating. The first place is "not doing lunch today," so around the corner we go to the second where I'm greeted, "Do you have a reservation?" It's 11:30 and if I'd brought a cannon we could set it off. Wisely, we move on next door to Area Four: bakery, bar and restaurant. Le bébé's eyes light up. Ours too.
It's busy. We opt for pulled pork and two pizzas. The pork sandwich comes piled high with arugula on a soft bun you scrunch to inhale with special sauce. Best of all, the pickles, peppers and pearl onion side is delivered in a cast iron frying pan that's all of two inches wide.
Damnath's thick-crusted carbonara arrives with onions, provolone, chunky bacon and eggs. Whoever said you could pile bacon on anything? I did. We don't know how they do it but this creamy, slurpy topping steals our hearts. The margherita, with plenty of sauce and for once, enough basil, is tomato tangy without a sniff of boredom. Other zippy pies rotate: puttanesca, pepperoni, pepper and sausage, bacon and clam, mushroom with fontina, gorgonzola with onion, and carnivore with pepperoni, sausage and bacon. More beer, please.