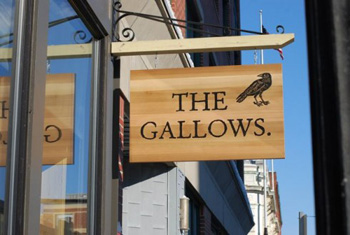 "We're a loud and welcoming hangout in the South End with a menu that changes weekly." It's Saturday and we can confirm the fun's here all right, along with everyone in the neighborhood. There's something about the South End we don't find anywhere else. You feel at home even when your neighborhood is miles away. The places are intimate, tony, casual, hip, and where the sidewalks are wide, there's outdoor seating. I've often wished I lived here.
Lan is ordering a mimosa. I'm not known for my noontime drinking especially but look at this: Les Boone's Farm Sunshine Pink NV CA. I've had it before, not in this century, so I order a glass. Andrew's in charge at the bar and wisely pours a small amount into a cup which is, now, how I feel it always should be served. It's kind of grapefruity in a lemonade way. Its nose is à la college dorm room and half a cup is just enough. Unless, of course, you're channeling high school, in which case have the whole glass.
The Gallows other wines are seriously regular, really, and if you're not sure, the wine list confirms: "These are the drinks, homie." Anyone who tries Boone's Farm will notice they have red beer: an "inspired mix of Pabst, lime & tomato juice." It's not a Bloody Mary, it may be inspired and we take your word for it.
We start with a North Carolina style pulled pork corn muffin. It's been buttered, grilled and finished with avocado and pickled onions. North Carolina pork is marinated in vinegar sauce with lots of pepper, ketchup and brown sugar for several hours. It's rubbed with salts, hot paprika, dry mustard and onion powder at least, and cooked for hours over hickory chips, if you're Steven Raichlen. Someone made this corn muffin just for us, drizzled the onions and voilà, we're transported.
You can order tofu tacos with marinated ginger sesame tofu, napa cabbage slaw, sriracha and sesame aioli as an appetizer. I ask them to hold the the slaw and they willingly slug in pea shoots. I so respect a chef that keeps them around for people like us. Tofu is my choice - I'm relieved never to find fish in my tacos. Transplant a New Yorker to the University of Arizona and that's all she eats for an entire year: tacos, the beef kind with crunchy shells and salsa. These tacos are soft, a lot less messy and lime is a devine mixer.
Today's pièce de résistance is the softshell crab. There's some discussion as to who will order it and I lose. It comes with green mango slaw, avocado and chipotle aïoli and this one is the reason why you don't have to make it at home. It's crunchy, toasty fried, the roll is soft, the avocado's slathered and it is worth fighting for. We like the fries that don't need ketchup and if they do, it'll be Heinz for me.
We see lots of regular regulars. You can be one but get used to the changing New American menu, not every month, every week (so you may not be able to have everything we're having). Still. The Gallows dinner menu is more formal and runs from jerked rabbit tacos, seared tuna, lobster salad, grilled chickory, rainbow chard, grilled asparagus, roasted beet salad, mussels and a duck duck goose pie, through "fish of the moment," lamb, game hen, and tofu which reappears with noodles and vegetables. Dessert isn't listed online but they have it.
We like the changing menu, eclectic tunes and unpretentious mood where they take food seriously but themselves not too much. Wish I could tell you why a gown is hanging in the ladies room; if I run into Rebecca and the Seths, I'll try to find out. When you're by yourself, you won't be once you're at the bar or communal tables in a dining room framed in reclaimed wood. Interesting location - - right across from the Cathedral of the Holy Cross where Pope John Paul II led a service in 1979. The Gallows took up this location in June 2010: they could be here forever.
THE GALLOWS: 1395 Washington St Boston, MA 02118 | (617) 425-0200
Kitty Kaufman is a Boston writer at http://www.corp-edge.com.