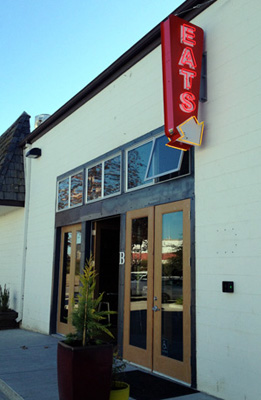 I just love the food and wine community on social media. They find all the coolest and latest places to go when you head out on the road. While our trips to wine country always center on finding the best new wineries and visiting old favorites, ballast - in the way of great eats - is equally important if you want to survive a day in the tasting rooms. The Santa Ynez Valley (also know as Santa Barbara Wine Country even though it's 30 minutes north) is home to over 100 wineries, but the towns are pretty small. This leaves your lunch options a bit slim especially in the Buellton area, unless you're looking for fast food or are hankering for a bowl of pea soup. So when I heard about a new place called Industrial Eats, I just had to check it out. Well, I actually saw a picture of one of their pizzas on Facebook and it made my mouth water. So on our next foray up the coast I made it our lunch destination.
Open for about a month or so, there isn't much info out there about it, so it was not the easiest place to find. I have to admit we initially drove right by it, finding ourselves at the end of the road and out of luck. There was only one option and that was to turn around and look up the address again. This is something that happens quite a lot in wine country, as many of the best places are not on the map, so to speak.
Located on Industrial Way (which I guess has something to do with the name), it's sort of tucked in behind the owner's main business, New West Catering. Jeff and Janet Olsson have been putting their 30 years of restaurant experience to good use in the Vally for over a decade and this is a clear expansion of their efforts. Why not put your catering kitchen to a secondary use during the week and bring your talent to the public at large?