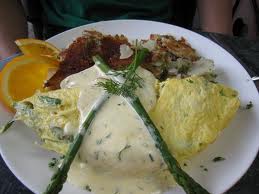 Here's what I like about California: People think nothing of driving 82 miles for lunch. (In New York, this never happens.) The Thin Man and I are now two of those people as we head out from La Jolla to Plums Cafe in Costa Mesa. We've brought the Boston mechanical lady along to tell us where to get off. She acclimates, more or less, and in no time it's north on the 5. Our LA cousins, who are meeting us, drive 56 miles and they've lived here long enough to get over their New Yorkiness. I guess we have too.
Just in case, The Thin Man prints directions. As it turns out, she not only does not get lost but she sees into the future. Five miles ahead, on the way home, she tells us repeatedly to get off because there's trouble ahead. We don't, there is, but it works out.
How do you define an ideal California lunch? Although I'm no slouch in the lunch department, a perfect lunch will be one I didn't have to make. Ideal is every plate beautifully arranged. Ideal is having to choose. Will it be soup and salad, waffles, chopped or Caesar, greens? Ideal comes with a brother and cousins. Ideal is a chic vibe. Home? If only.