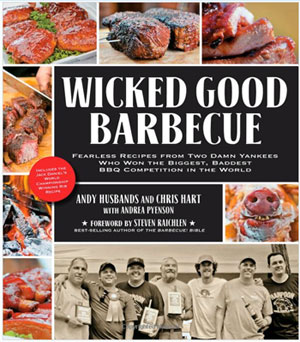 I love barbecue. I know I am not alone. I wish my husband was a grill master, but alas that is not where his talents or inclinations lie. Our recently purchased smoker has only been used two or three times with a modicum of success. He was merely teasing me. He has no culinary aspirations and was drawn in because it's a gadget. He can't resist gadgets. I think he thought it would be easier to operate and, on a basic level, smoking food is fairly simple. However, to get great flavors one has to put in the time and a bit of effort and that's something he just didn't count on. Plus the recipes that came with our unit were pretty uninspiring and not as detailed as was necessary for people new to the ways of smoking food. So, his excitement quickly waned.
So when I came across the book Wicked Good Barbecue
, written by two chefs from Boston - Andy Husbands and Chris Hart - who've won hundreds of barbecue ribbons across the country as well as the Jack Daniel's World Championship, I thought that maybe there was hope for us. (I'm from MA and love that the book is written by two New England dudes.) That using these recipes we could turn our backyard into a heaven of smoky, meaty goodness. Alas, that is not meant to be. This book is serious. This book is meant for those with a fire in their belly to create great dishes that will impress their friends and smells that will torture their neighbors. If your man thinks he's the best griller in the world, this book will help him prove it. Or at the very least, help him step up his game.