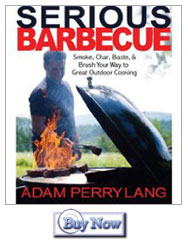 I have to confess – my relationship to the barbecue is voyeur at best. Occasionally, I'm assigned "Bri-ing me a-nother platter," which is ordered up as a faint cry from the deck where hopefully someone else is keeping "the barbecuer" company as I sort of regard "the grill" as a place of sparks and smoke and other unseemly stuff. Or else, I just like to be the star in the room and the star on the deck is the barbecue and "the barbecuer", a vocation I've never crossed gender lines for (although I've considered it.) I've considered that barbecuing could be up there with say, "Army Sharp Shooter." But since I have (earned) an "Army Sharp Shooter Certificate" from an intensely lonely three months at a summer camp I hated where I spent my time largely at the firing range...I've never quite felt the need to add Ace Barbecuer.

But I, also, have a serious addiction to cookbook reading, passed down from my mother. So when a copy of "Serious Barbecue: Smoke, Char, Baste, and Brush Your Way to Great Outdoor Cooking"
by Adam Perry Lang arrived in the mail with a quote from Mario Batali on the cover where he declares "Adam Perry Lang is my hero and my go-to brother for meat and fire." I couldn't resist reading it. And encouraging "the barbecuer" to do the same.