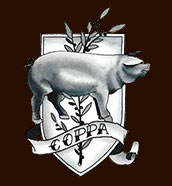 There are people who, when on vacation, go wherever the road takes them. I am not one of them. If I'm going somewhere new and only have a few days to explore a place, I'm going to find the best it has to offer, especially when it comes to food. I'm not exactly a foodie – though I've become way more adventurous in the last several years – but I am an eater. Which means I have a lot of meals to plan and thanks to the Internet, my planning compulsion is fueled to even greater heights. Why settle for second best?

I'm not really sure how I found Coppa though it was probably through Twitter. I don't usually follow restaurants outside of Los Angeles, why torture yourself, but since I was going to be in town this summer, I placed them on my radar for a possible dining choice. In the months leading up to our stay, they became the front runner. Everything they tweeted about sounded amazing. Their menu focuses on small plates with an Italian bent – they had me at arancini – fresh pasta, wood-fired pizza and plenty of cheese and charcuterie. The latter two things are irresistible to me.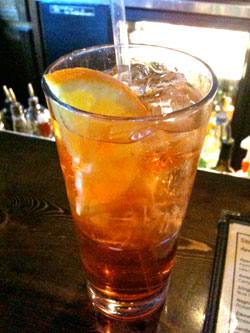 When we called for a reservation, we almost didn't get in. Our dining time of 6pm on a Friday night was fine with us…except we were flying in that day and if we were delayed at all we would be out of luck. It was only day we could go. I had no idea at the time that the chef/owners – Ken Oringer (a James Beard winner) and Jamie Bissonnette – were two of Boston's top chefs or that they owned other restaurants. Coppa is their latest collaboration, opening in the South End in 2009 – a neighborhood that's been completely revitalized in the last decade into a food and wine destination. This area is clearly trying to give Newbury Street a run for its money. Thankfully the bulk of the tourists have yet to discover it. The locals clearly have because every place we walked by was packed.

I always claim I could give up meat with the exception of anything that comes from the pig. What we had at Coppa hammered that claim home. Thankfully there were four of us, as the menu had many things I wanted to try. Their wine list features only Italian wines, but is well-conceived and well-priced. It's not long, but it covers all the right bases. Their cocktails are also Italian-inspired, mostly using ingredients and liquors that come straight from the homeland. Since we were a bit early for our reservation – an air travel miracle – we started with cocktails. I had the Aperol Spritz (a new fav made with Aperol, a bitter-orange flavored liquor) and I made the Man get the Sardinian Iced Tea (made with Amaro, lemon and prosecco) which were both light and refreshing after a long day on a humid night.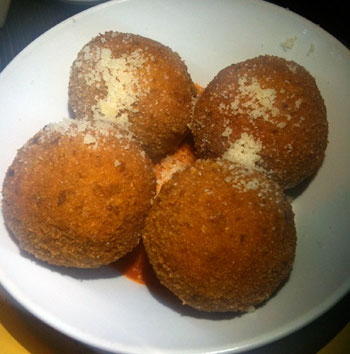 Since my sister-in-law is not a very adventurous eater we tried to keep what we ordered fairly straightforward, though I have to give her credit for upping her game and at least trying everything that came out of the kitchen. We began the evening with the mixed olives, moved onto the Fegato/Chicken Liver Crostini (as good as Mozza's), tried the Lardo with Lavender and Honey (that night's special) and then happily devoured the perfectly-fried, golf ball-sized, Fontina-filled Arancini. Utter perfection. The plates are small, but each gave us a good solid bite or two to enjoy the flavors and for around $6 an item well worth the price.

We then moved on to a cheese plate, ordering the Taleggio (a classic), Piave Vecchio and Piemont to help cleanse the palate. It was nicely presented with lovely fig jam and roasted pistachios as accompaniments. We each ordered a half plate of pasta, which is all made fresh daily (I had the Pasta Nera made with squid ink) and they were all very good, but apparently we missed out big time by not getting one of their wood-fired pizzas. They have the only wood-burning oven left in the city (they were grandfathered in) and according to the locals sitting next to us their pies are to die for. Now we have another reason to go back.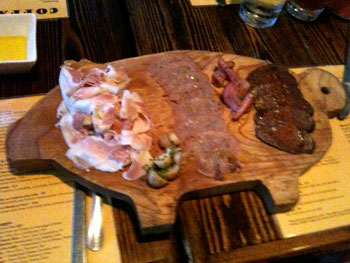 The highlight of the night had to be the charcuterie sent out on a wooden board in the shape of a pig which was just too cute. If it wasn't what they were known for, I'm sure I would have been a lot more wary of eating Blood Sausage and Beef Tongue (it sounds better in Italian – Lengue), neither of which I would have put in my mouth a year ago.
While I liked the Blood Sausage which was spicy (in a good way), what surprised me most is how much I enjoyed the Tongue. It was subtle in flavor and had a delicate texture that was unexpected. I will definitely give it a chance the next time I see it on a menu. However, the best bite of the night had to go to the Duck Prosciutto. It was melt-in-your-mouth, salty, fatty goodness. The best prosciutto I've ever eaten, hands down. Ate way more than my fair share.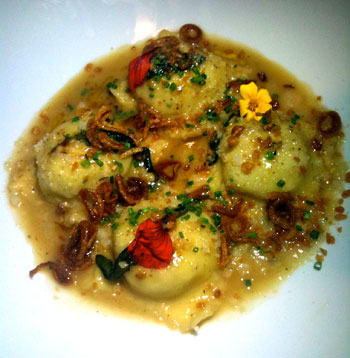 The oddest thing we tried was the pasta special of the night which was Calves Brain Ravioi. It had an Italian name that eludes me and made it sound way more appetizing. Beautifully presented, I refused to tell my sister-in-law what it was so she would try it (sort of mean I know). When she learned she was horrified. I thought it was good, but nothing I would order again. The men, however, adored them. To each their own. Another reason why I love small plates. They allow you to expand your food universe without breaking the bank or being forced to finish something that's not to your taste.

After eating Coppa's beautiful food, I can understand why the place is so popular. It's not very large and will only become smaller once the weather gets cold and they have to shut down their outdoor tables. Reservations are a must, if you don't want to wait or want to get in at all. Originer and Bissonnette are passionate about food and it shows on every plate. I can't wait to go back to Boston so I can try their other restaurants. Of course, I'll need plenty of time, since I'll need to fit in another visit to Coppa.
COPPA – 253 Shawmut Ave., Boston MA – 617.391.0902
Lisa Dinsmore is a writer, web programmer, movie and wine lover. She currently runs two review websites to share her passions: www.crazy4cinema.com and www.dailywinedispatch.com. She is also the Managing Editor of One for the Table.