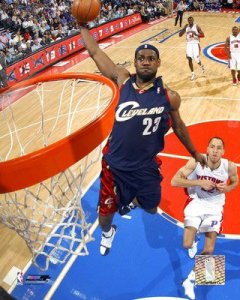 (Well two, if LeBron James leaves.)
While a little disappointed on a recent trip to this town by the pizza-by-the-slice on Mayfield Road ("Our Little Italy is better than your Little Italy"), we were delighted to join in the citywide pastime of discussing LeBron James, The Cleveland Clinic and Hunan by the Falls. And, until LeBron James changes his jersey that is reason enough to find Cleveland irresistible!

James and the Clinic are known around the world. Actually, so is Hunan by the Falls, since Clevelanders never stop talking about this fabulous Chinese fusion restaurant in Chagrin Falls. People have been known to go into a Chinese restaurant in other cities and ask them to call Hunan by the Falls to see how to prepare some of their special dishes such as their secret Walnut Prawns… We had to go.

Full disclosure: Hunan by the Falls is owned by David Cameron, the son of concert pianist Rosaline Cameron, who is a dear friend. Because of this bit of luck, our visit to the restaurant produced a true off-the-menu Chinese Feast - a culinary luxury I have not experienced in years!