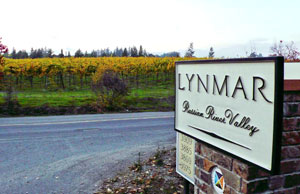 Glowing the color peachblow, I've just returned from subsidizing Sonoma's Wine Country and have this to say of their grapes: "Fussy, yet serene, bossy yet submissive, a hint of herbaceous seepweed, a scent of doleful dégringolade". At least that's the kind of verbal dexterity I wished I had displayed during tastings at Lynmar, Martinelli, Siduri, and Kosta Browne wineries (don't try to find the last one – it has no address and may not even exist).
Instead I mainly stuck to: "That's a great chardonnay or – wow! – that's a really good pinot noir (if you are looking for cabernet go crash your car in Napa). I knew that Sonoma was a fun palace for wine but what caught me unawares was the high level of food to be found.
After my girlfriend Betsy and I deplaned at Sonoma County Airport in Santa Rosa, we depacked at Kenwood Inn and Spa for a four night stay (think Twin Peaks meets Fawlty Towers) and headed straight away for delunch at "the girl & the fig" in Sonoma – a perfect bistro beginning to the trip (don't miss the salt cod croquettes with white bean purée, caramelized onions, meyer lemon-herb salad). Stuffed roasted quail at Café LeHaye (also in Sonoma) would be a must have at another meal and you should be detained and questioned if you don't order the charcuterie plate at Mosaic in Forestville.