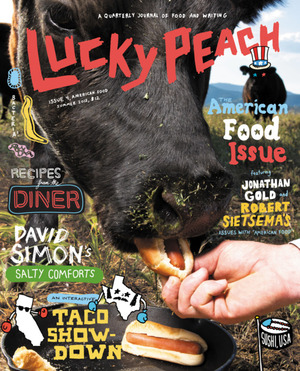 My husband used to quote his Turkish grandpa Bernie about the secret to creating a successful business. Something about finding a gap in the market; a service that is needed but hasn't been provided…yet.
I think the good folks at McSweeney's probably took a page from Bernie's notebook when they dreamed up Lucky Peach Magazine because the world certainly needed an in-your-face, take-no-prisoners, fuck-you, let's see you do micro-gastronomy recipes at home you sorry bastards, food publication.
To give you some idea of the subversive nature of this thing, the cover of Issue Number 4 has a cow being fed a hot dog!
This would be The American Food Issue and it opens with a pretty dang funny apology from David Chang, renowned chef/owner of The Momofuku Restaurant Group. The deliciously ironic tone of the letter does more to promote the new wave image of today's young chefs than any of the spiky-haired, contest winning, road tripping drunken loudmouths you find on the Food Network.
I wish I knew more about art so I could convey the style of the magazine's graphics. The photographs are gorgeous and there's a sense of humor infused in every aspect of it's content. Jonathan Waxman's Fried Chicken is presented simply with images and arrows pointing to the next step. Good for toddlers and, well, me.