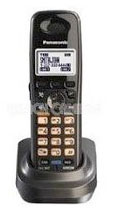 When was it ok to just blithely accept that products are now engineered for obsolescence? Case in point: our stinkin' Panasonic cordless phones!!!
We were perfectly happy with our KX-TGA650B Panasonic cordless phone when one day we found one of the handsets sprawled on the living room floor, like eviscerated lion prey. The antennae had been mangled by our dearly departed dog Satchmo. Here's the evil part; not only had that model become obsolete, but once you've lost the use of one handset, you have to replace the whole effing system!
Now we have the Panasonic KX-TGA939T. We have 4 around the house and I hate it! The handset in my office, where I do all my work, is haunted. At first it was just an irritating quirk it had where if my ear was close enough to the receiver, my mouth wasn't close enough for people to hear me and vice versa. So, my husband suggested I put all my calls on speaker. Personally, I think putting people on speaker makes everyone an automatic douche bag but what was I gonna do? And, it was no solution. The quality of the sound began to erode that way too!
I'd be yammering on and all of a sudden I'd hear "What was that? You're breaking up. You sound like you're under water." Unnerving when I could hear them perfectly well. But that didn't last. Oh no. It wasn't bad enough that all my calls were now on speaker, or that sometimes the other caller couldn't hear me, now all the callers voices sounded like they were being pulled through a candy wrapper or a pig nostril!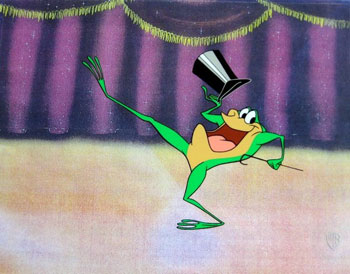 Then it developed this ring that was the kind of thing you can't believe you're living with on a daily basis. Normally, rings are short bursts with a pause and then they resume. Not the one in my office. It would ring and that would be it. A long continuous, uninterrupted ring, even after the phone was answered! Haunted, right? But here's the diabolical part. Every time I tried to prove this to anyone by demonstrating it; it wouldn't do it. So I'm the crazy one.
It was like that Warner Brothers Cartoon with Michigan J. Frog where the frog sings Hello My Rag Time Gal. The guy who discovers the frog tries to cash in but the frog only does it when he's alone with him! Maddening! I've tried rotating handsets because my husband insists it's that particular handset in my office. Each phone acts the same way. If my office were on top of some kind of vortex or an Indian burial ground, my previous phones would have done this. No. It's this new Panasonic dammit! TGA939T: You suck!!
Laraine Newman is a founding member of The Groundlings Theatre Company and an original cast member of Saturday Night Live. She lives in her hometown of Los Angeles with her husband and two daughters.