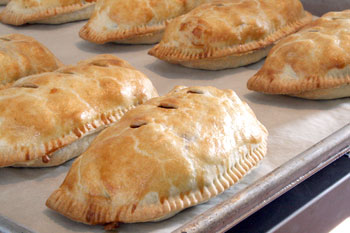 Be careful when you do a Google search for pasties. I was searching for the edible kind, the Cornish kind-- pastry stuffed with meat and vegetables. But, ummmm, you know, the other kind came up. Google misunderstood. It did try, though. Google asked: Did you mean to search for: all about pastry?
I had just returned to my office after a visit with Mark and Peggy Schultz, owners of a pasty (PASS-tee) shop in Turtle River, Minnesota, not far from where I live. After spending time in the Turtle River Pasties kitchen, watching Mark create very chubby pasties, all-butter pastry turnovers stuffed with beef and root vegetables, I was anxious to use the tips he shared with me to make my own batch.
I first learned of pasties over 20 years ago when I was in Ely for a state Legion baseball tournament. They were part of the line-up at the concession stand. A pasty is a little bit like a filled dumpling, but it's baked, not boiled. It's a little bit like a pie with a flaky crust, but it's eaten out of hand, not with a fork. It's a little bit like a sandwich filled with meat and vegetables, but there's no bread involved.