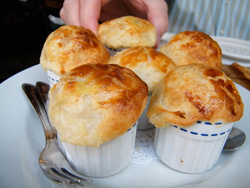 Chef Walter Manzke's smile is infectious. Wait, maybe I shouldn't say "infectious" since we're in the middle of the H1N1 Flu scare (I refuse to call it the OTHER name because I love my bacon).
On my first visit to Church and State, I didn't get to meet the chef until evening's end, when I stole a few seconds of his time to tell him how much Peter and I enjoyed the restaurant. During our entire dinner though, from across the room, I was carefully watching him as he expedited orders and finished off each plate in the open kitchen.
Between bites of the luxurious beef short-rib bordelaise and the perfectly baked (and cute) tiny ramekins of escargot, I would look over and see Chef Manzke's face beaming. It's almost like I could feel his joy drifting through the kitchen, then up above the beautiful, antiquated string of lights, and finally, smack down onto my plate.
Delicious food always makes me happy, but seeing chef Manzke's ear-to-ear grin in the kitchen definitely made me more aware of the joy and care he (and his crew) puts into each dish.