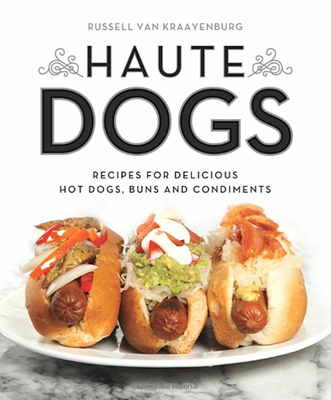 As I was reading the introduction to Russell Van Kraayenburg's cookbook, Haute Dogs: Recipes for Delicious Hot Dogs, Buns, and Condiments
, I found myself questioning his ardor for the humble encased meat. I mean, really, who could say, without his tongue inserted into his cheek, that he found hotdogs "alive with possibilities"?
I kept reading and quickly surmised that Kraayenburg is the real deal: He is an honest-to-goodness hot dog evangelist.
Having "explored the vast, varied world of weinerdom," Kraayenburg has compiled over 100 recipes for homemade hot dogs, buns, and condiments. You'll learn how to make from scratch dogs and sausages including bratwurst and kielbasa. You'll also discover how to make your very own classic hot dog buns, plus a few other glutenous vessels such as flat bread and corn dog batter. As for sauces and condiments, you'll find a hearty variety of BBQ sauces, mustards, ketchups, relishes, salsas, slaws, and more.
The recipes include all-American classics such as the Chicago Dog, an all-beef weiner overwhelmed with neon-green relish, tomato wedges, sport peppers, a dill pickle spear, and celery salt served on a poppy seed bun and the Coney Island dog, an all-beef weiner smothered with Coney Island sauce (recipe included!), yellow mustard, and diced white onions. Of course, the quintessential summertime favorite, the corn dog, is included, as is its rival the waffle dog.