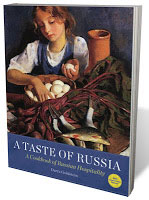 I love exploring the Russian grocery stores out on Geary Street in San Francisco and often purchase luscious sour cream, delicate blini and caviar, sweet cheese pancakes, frozen pelmeni and vareniki dumplings and different varieties of smoked fish. So I was very excited to see that A Taste of Russia
by Darra Goldstein was being reprinted on the occasion of it's 30th anniversary.
It's filled with all kinds of dishes I want to make such as Piroskhi, Cabbage with Noodles and Poppy Seeds, Radishes in Sour Cream, Cranberry Kvass and Circassian chicken. It's my first Russian cookbook and while lacking photos, it does cover all the basics with recipes that are easy to follow and helpful and enlightening notes from the author who spent time living in the former Soviet Union.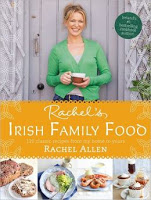 Maybe it's just my love for potatoes, but another cuisine I associate with comfort is Irish food. Cooking teacher Rachel Allen's latest book is Rachel's Irish Family Food
and it has loads of dishes that while nothing fancy are particularly appealing this time of year. I've bookmarked Ham and Egg Pie, Oatcakes, Beef and Red Wine Pot Pie and Whole Grain Shortbread.
Many of the recipes are very simple and for things I'm not sure I really need a recipe for like Salmon with Capers and Dill, Slow Roasted Shoulder of Pork and Creamy Mashed Potatoes, but if you are just starting out cooking, are firmly in the meat and potatoes camp or are just looking for more options on St Patrick's day, this book is a good pick.