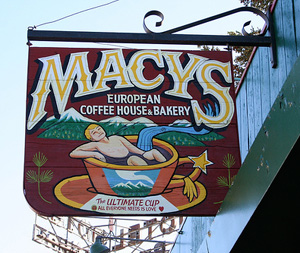 Four years ago Jeff and I took a memorable road trip through New Mexico and Arizona on the way to the Grand Canyon. I don't know what I loved more, the awe-inspiring landscapes or the outstanding cuisine we enjoyed along the way.

Of all the meals we savored, breakfasts were the most memorable. We had spicy veggie burritos, creamy skillet eggs with chiles, and crunchy blue corn French toast; each morning got better and better.

One morning we rose extra early to go for a hike. We drove to a trail on the outskirts of Flagstaff -- a small yet vibrant college town with great bookstores, niche restaurants, and lots of students wearing hemp clothing. After a grueling hike in which we encountered brown bears and fossil remains (alright, maybe not bears, but we did see several freakishly large squirrels), we made it back to town famished.

We hit the first breakfast spot we found. An enticing aroma of freshly roasted coffee lured us straight into the front door of Macy's European Coffeehouse, Bakery & Vegetarian Restaurant, a quirky eatery offering a delicious array of healthful vegetarian dishes.