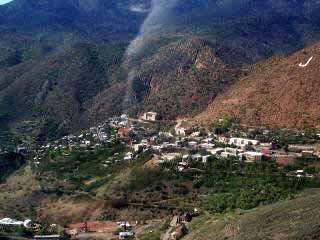 One of the things I love most about traveling is finding out-of-the-way places to visit. Especially ones that have a cool history to go along with their surroundings. Which is how we found ourselves in the old mining town of Jerome, Arizona. Well, to be honest the initial draw was the three wine tasting rooms located in this tiny town – it has under 500 permanent residents – perched on the side of a mountain with one hell of a view down.
This tiny haven was founded in 1876 and sits upon what was once the largest copper mine in Arizona. At its peak, 15,000 people lived here. As you wind your way up Cleopatra Hill you will wonder where and how. It became a sort of "ghost town" once the mine shut down for good in 1953. The "Wickedest Town in the West" almost became extinct, but the men and women who grew up there refused to let it die and it is now, after some lean years, a thriving artist colony and daytripper destination for those visiting Scottsdale and Sedona.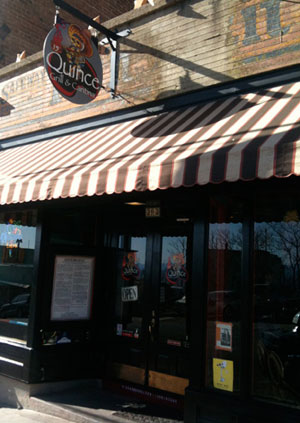 With a history this rich, I couldn't resist staying here and since we would be spending our day wine tasting on the road to get there (and once we arrived) it was prudent to park the car and leave it for the night. What we failed to realize, was that we were in town during the "off-season" and on a Wednesday night, which left us few dining options. We were initially going to take a quick nap and freshen up before dinner, but discovered that the one place I wanted to eat 15.Quince Grill & Cantina, which specializes in New Mexican cuisine – a mix of Spanish, Native American and Mexican cultures – was only open for lunch. We were in luck though since they served until 5pm. With a half an hour to spare we rushed over to find ourselves in a cozy, yet vibrantly-colored space filled with local art inspired by the majestic scenery around us.
We were the only ones in the dining room and felt sort of bad since we didn't want to keep the place open just for us, but our server was gracious and friendly and didn't seem put out at all. We picked a table painted with happy sunflowers and settled in. (All of the tables were hand-painted by local artist Sally Murphy who poured for us the next day at a local winery. Small town indeed.) We live in a city that is renowned for its Mexican food, so we're pretty tough customers. Yes the flavors were different, but the menu was still filled with burritos, quesadillas and margaritas. We heard from several residents that the food was great, but seriously, its not like they have any competition. For miles. If you're craving chips and salsa and fresh guacamole 15.Quince has the market covered, so it could really go either way. We were hoping for the best.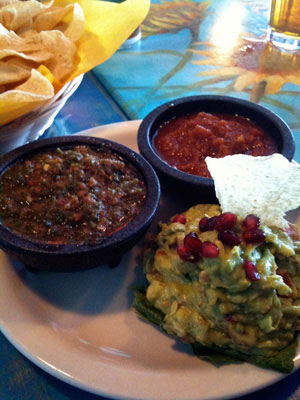 Once we dug into the salsas (one cilantro based, one chipotle based) and guacamole, which were amazing, we knew we were in good hands. Owner/Master Chef Vladimir Costa (he's earned the title) knows exactly what he's doing drawing the flavors out in powerful yet not fiery ways. The restaurant's focus is on the chile pepper in all its permutations and we had some of the most flavorful food I've ever encountered outside of Southern Cal. He tries to source everything locally and most of his produce is organic. You can taste the care and freshness in every bite.

Since we weren't that hungry and trying to be somewhat good on our vacation, we decided to share the "Juanita Cash" Relleno Burrito with Christmas Sauce. Apparently many chili lovers are strictly red or green sauce people. Personally, we love all sauce as long as it's not super spicy hot. So, out came our monster burrito filled with black beans, egg-battered Hatch green chile relleno, rice, guacamole, and chipotle crème, half covered in red sauce, half covered in green. I mean we had to try both, right? We dug in with gusto and didn't even care that it was vegetarian.

Like all good cantinas this one has a full bar with plenty of tequila, local beers and specialty drinks to make anyone looking for an alcoholic libation happy. After a day of wine all I wanted was a crisp, cool drink and ordered the Chambord Margarita. It's my favorite liquor and I just couldn't resist. I wasn't sure how the flavors would mix, but once it came out it came all pink and frothy I just had to smile. Man, it hit the spot and packed just enough of a punch to keep my earlier buzz going.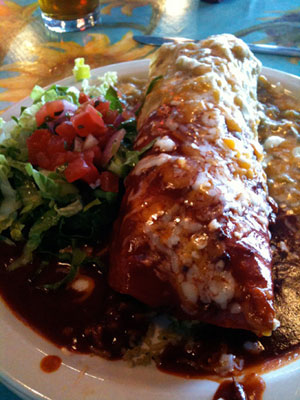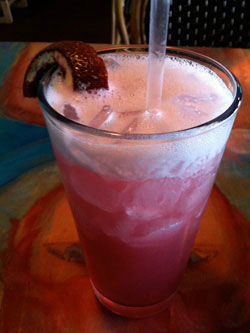 In fact we loved our meal so much we went back for breakfast the next day. Don't even get me started on the Huevos Rancheros. I licked my plate clean and loved the 1/2-inch, square-cut, crispy potatoes that came with it. They helped me get every bit of sauce. Yes, Christmas-style again. In a nod to the town's history, the Man got the Miner's Breakfast: Two large, fresh eggs prepared any style, with your choice of meat (applewood-smoked bacon, ham, or sausage patty), home fries or hash browns, and toast. For $4.50. You read that right. At both meals the food was delicious, unpretentious and hearty. Delivered quickly and with a smile. What dining out is all about, for us at least.

I initially couldn't imagine what compelled Chef Costa to hang his shingle in such an out of the way place like Jerome (yes, yes it has a killer view); however, I know the townspeople and tourists are sure glad he did. The food was so good we couldn't let it go. We took our extra chips and salsa with us and ate them while watching the sun set over the red mountains of the Verde Valley. At that moment, it made perfect sense. Perhaps he found his little piece of heaven here…and is delivering a bit of it back to his customers.
15.Quince Grill & Cantina
363 Main Street, Jerome, AZ 86331
928.634.7087
Closed Tuesdays
Lisa Dinsmore is a writer, web programmer, movie and wine lover. She currently runs two review websites to share her passions: www.crazy4cinema.com and www.dailywinedispatch.com. She is also the Managing Editor of One for the Table.