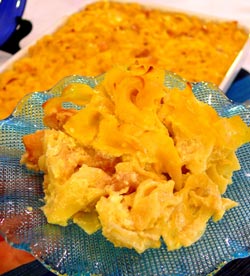 It has to be the unsexiest of all Jewish foods, the Noodle Kugel. If you say kugel with a nasally tone, it's even more unsexy than previously mentioned. The word kugel itself reminds me of kegel, another less than sexy term. Maybe that's the problem.

However, if you were to challenge me, indicating gefeltifish in a jar is the unsexiest of all Jewish food, I might secretly agree with you. But for the moment, I'm going with kugel.
Now, with all of that said, I would like to go on the record proclaiming this particular Noodle Kugel, in all of its high piled noodle glory, as having the sexiest TASTE ever. If you take a peek at the list of ingredients, you'll see there is no way it could taste bad, it's like dessert. There is something about the crispy-sugared edges of the baked noodles on top that send you to kugel nirvana. It's sublime. And please don't try to tell me there is no place called "kugel nirvana" because I've been there.