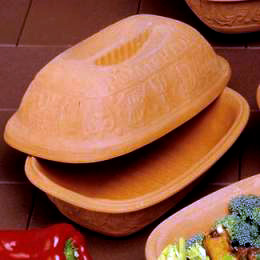 Let me be unequivocal here: I hate my clay pot.
I bring this up because of the front page article in the LA Times Food section on October 28, 2009 entitled "Clay Pot Alchemy" in which Paula Wolfert, the cookbook author, seen smiling broadly in front of her multitudinous collection, announces she's 'never met a clay pot she didn't like.'
Allow me to introduce her to mine. Such is my disdain for this thing that it lives in the very back of the very top shelf of our utility closet, reachable only by standing on the top rung of the step ladder, moving 8 bags of Rustichella d'Abruzzo pasta, a dozen 28 oz. cans of San Marzano tomatoes, 4 giant bottles of Dijon and several extra large boxes of Q Tips which we bought at Costco more than 3 years ago and I am not even slightly exaggerating when I say we could have Q Tips for life. Only then will you find my clay pot, wedged in the corner like some dunce who was sent there for getting the answer entirely wrong.
Because entirely wrong is what Clay Pot cooking is to me. The roast chicken from the little recipe booklet included with purchase was not "moist and browned" as promised but wet and wan. And the red peppers? The Zucchini? Those tomatoes? Limp. Limper. Limpest. I would have donated my clay pot to the National Jewish Women's Council Thrift Shop where once a year I haul outsized, green lawn and leaf bags full of unworn clothes, or left it out in our alley where, no matter what you leave on top of those garbage bins magically disappears by the next morning, were it not for that one time.