In over four decades on this planet, I've eaten an uncountable amount of food – some good, some bad, most forgettable. It was something I used for ballast and to curb my hunger. Occasionally, it paired just perfectly with my wine choice – which I always spend more time thinking about – making me more aware of what I was chewing and wishful that that culinary cohesion happened more often.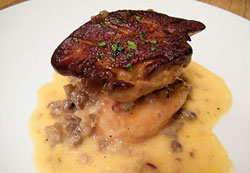 Tired of eating my usuals and looking to raise my food bar, last year I decided to try everything that came my way, to open my palate to new experiences regardless of my past encounters...and what I found was almost magical. In the right hands, food, even simple food, could be (and was) extraordinary, more than the sum of its parts. Like great wine, it caused my mind to go numb with pleasure, as my tastebuds were bombarded with culinary perfection, with flavors and textures previously unimagined.
While I didn't love every item I took a chance on, some of my newfound choices brought delicious delights I know I will never forget and changed the way I thought about food. After eating the following things, you should have seen the look on my face.
Foie Gras Biscuit with Maple Sausage Gravy at Animal in Los Angeles: Seriously, the most surprisingly delicious thing I have ever eaten. It was my first introduction to foie gras (until this past fall an item I avoided like the plague) and it was mind-boggling. My expression made our friends burst out laughing, reaching for their cameras to capture the moment. I can still taste it (in a good way). Sweet, savory, yeasty, rich, meaty goodness that just melted in my mouth. This is a "last meal" dish, I will be returning for as soon as possible.