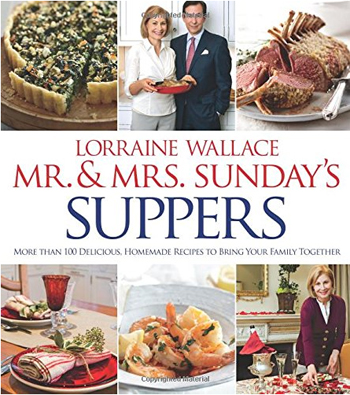 "Chris loves Pork Chops anyway they are prepared."
My friend, Lorraine Wallace, seems utterly dedicated to making her husband happy on Sundays! Chris anchors Fox News Sunday live each week, and Lorraine has taken that as her cue to make the evening meal especially welcoming.
I love comfort food and I love pork chops, so when I got my copy of Mr. and Mrs. Sunday's Suppers
, the first recipes I checked out were for Pork Chops. I wasn't disappointed: Pork Chops with Glazed Sweet Onions (perfect – Vidalia onions are coming into season) and Pizza Pork Chops!!! HUH?? Don't expect pizza dough, but do count on all the delicious flavors that go into pizza sauce enhancing the chops.
(And, surprise! Next to the newly discovered recipe for Pizza Pork Chops, I see another fabulous recipe: "Linguini Con Vongole From the kitchen of Nancy Ellison." That's me!)
Lorraine's cookbooks - besides MR & MRS SUNDAY'S SUPPPERS - include Mr. Sunday's Soups, and Mr. Sunday's Saturday Night Chicken. All of them emphasize fresh ingredients, simple recipes that compliment our busy, contemporary life style, and a sense of wellbeing.