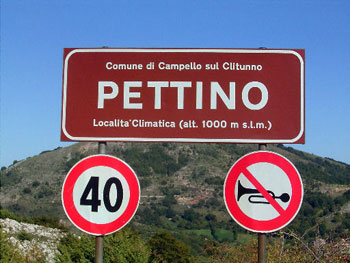 I ate a perfect dish the other day and I was lucky enough to be with friends who were able to document the whole experience.
Trista and Cappy have visited us before in Umbria and they are on the A-list, as far as we're concerned. They're the easiest, breeziest houseguests in the business. One day, we were noodling in the fridge, trying to concoct a lunch out of various leftovers – very high-level leftovers, I may say – when Jill came up with an idea.
"Have we ever taken you guys to Pettino?" So much for leftovers. Pettino is a tiny village about ten miles (and two thousand feet of altitude) from our house. We jumped in the car and slowly made our way up the twisty hill. At around 800 meters above sea level, we started to see the striped poles on the side of the road that are used in the winter to measure the snowfall. We still had 300 meters more to climb. Pettino boasts a population of 74 inhabitants and many more sheep. The only commercial building that I know of is the small inn that houses the Trattoria Pettino. This was our lunch destination.