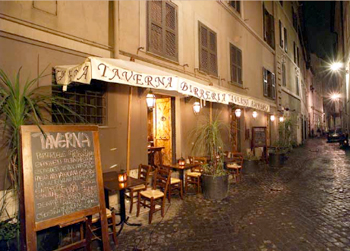 Normally, one encounter with an old bear would terrify a person. It would probably scare a person out of the wilderness and into solitude for an unforeseeable amount of time. It would most likely be an experience worth putting behind and never having to relive. In fact, the only person I have ever read of, other than circus acts and zoo trainers, to have ever made his life about becoming friends with old bears is Mr. Timothy Treadwell, who was deemed Grizzly Man by Mr. Werner Herzog in a 2005 documentary by the same title. Treadwell was the victim of one of the old bears he had become friends with during his life in the wilderness with them.
Recently, I survived an encounter with an Old Bear – only this one wasn't big, fuzzy, and scary – this one was located in the center of Rome – this one was just a hidden gem crouching in a dark alley waiting for it's prey to walk by and step inside. This one had sharp teeth that captured my friends and myself and welcomed us for one of our most wonderful dining experiences in Italy yet—this one was an old bear worth encountering. A good friend who had worked at the restaurant in the past recommended the Old Bear to me when I told him my friends and I were looking for somewhere new and good to eat. He asked me what type of food we were looking for and what area. I told him we were really interested in going to a place where Italians go, not tourists. He said that his restaurant would be the perfect choice. After writing down the address and some food recommendations (pumpkin lasagna) I was off to get ready for a night out.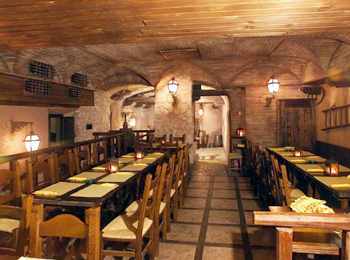 We arrived at the Old Bear at 10PM, and I could almost envision all the windows to the restaurant as teeth forming a giant grin—as if the Old Bear knew we were the perfect prey. We walked inside, and there was no turning back. This bear was going chew us up and keep us forever—or at least our hearts forever.
From the bread and oil, to our wine, and through our first and only course of lasagnas and pasta amatricana, the bear had a tight unrelenting hold on us. As I scooped up my mushroom truffle lasagna and took a bite, my face grew bright red with acceptance. "This is amazing," I said to my friends..."Simply amazing."
I turned to my left, and saw as my friend's facial expression matched mine; only her grin was for the recommended pumpkin lasagna with speck ham on it. Across the table from us, eggplant lasagna and the pasta amatricana were being devoured without complaint. As we each reached the end of our dishes, I went to scrape every last bit of truffle off the side of my bowl with my fork. "I just don't want it to end!" I exclaimed to my friends.
"I know… I don't want this to be over," one of the others added.
Unable to move, following our delightful dinner, we sat and talked for an hour and a half and digested our food. As the clock neared midnight, the waiter told us that the Old Bear would be closing. It appeared that unlike the Grizzly Man's encounter with an old bear, this Old Bear was letting us go. But we all agreed, it was an Old Bear we wouldn't mind encountering again...and again…and again.
Old Bear Pub
Via dei Gigli d'Oro, 3
00186 Rome, Italy
066 8210009
Libby Segal is a recent graduate of the University of Rhode Island where she studied Communication Studies and Film Media. She has recently moved to Italy for eight months in to teach English as a second language. While in Italy, she keeps a blog chronicling her cups of cappuccino. <http://illtakeacappuccino.blogspot.com